Removable Appliances
We have already stressed the need for co-operation. Beyond this there are some pointers that can be very helpful.
Cleaning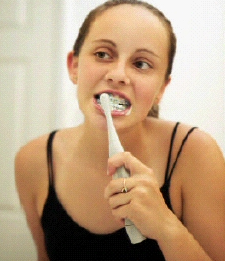 Both the appliances and the teeth must be cleaned regularly. There are brace soaking cleaners which work quite well used on a daily basis, to clean the appliances. However, an electric toothbrush is the best method to clean the appliances.
Be Careful – Do not bend any of the wires while brushing the appliance.
The teeth should be brushed twice a day with a fluoride containing toothpaste. Flossing is also important in preventing cavities from forming in between the teeth. If brushing is impossible, taking water and swishing it around the mouth is the next best way to clean the teeth.

Wearing
All appliances should be worn full time unless otherwise instructed by the dentist. Exceptions can be for eating and cleaning.
Some appliances are best removed during contact sports. The dentist should be consulted and will advise regarding each individual situation.

Lost Appliances
Most removable appliances are lost as a result of the patient removing them for eating. The dentist will supply an appliance box with your name and address. If, however, the appliances are not placed into the box they can easily be lost.
The appliance should never be wrapped in a tissue or napkin as they can be easily mistaken as rubbish and lost forever. Appliances are no different than eye-glasses. They must be properly cared for.
A second major cause of loss is the household dog. Dogs love the smell and taste of an appliance after it has been in the patient's mouth. They will chew on it or even bury it much like they would a bone. Keep the appliance and the box well out of reach of the family pet.
If an appliance is lost or destroyed the dentist will pass the expense of replacement on to the patient or parent. Appliance therapy is not overly expensive if patients and parents are responsible.